Hi! I'm Neconoteblog!

Oma Town, Aomori Prefecture, located in the northernmost part of the Japanese archipelago.
There is a temple called Fugenin where you can experience a "SHUKUBOU" in this town that is super famous for this tuna sold at the highest price in Japan.
Fugenin's Shukubo is limited to one group per day.

We have been staying overnight in October, when autumn leaves begin.

What is a SHUKUBOU
A unique travel experience in Japan: Shukubo is an accommodation facility for monks and worshipers in temples and shrines.Sleeping in a Japanese temple allows you to immerse yourself in the mysterious atmosphere of monastic life. 

Shukubo

, which literally means "sleeping with the monks", is a must for many foreign visitors during a trip to Japan.

Originally it was an accommodation facility dedicated to monks, but it was a system that was extended to the general public who came to worship. In times when transportation was not well developed, some people would worship and walk from a distance.

I'm a shukubo with such a strict atmosphere, but I don't have any particular devotion, and I was just drawn to the unknown keyword of "shukubou" and visited with a feeling of ease.


To the Shukubou experience!
This is the gate that appeared when you entered the mountain from the coast and went up.
There is a wide parking lot across the road, so you can park your car there!


As you enter, you will see a large garden that is very clean. There were many autumn leaves in the trees. In some places, food for wild birds and squirrels is placed, and at a glance, you can see that it is an environment where many animals come to play at a temple located in nature.
It seems that not only squirrels but also monkeys come in groups.
(Monkey! I wanted to see it, but unfortunately I couldn't see it)



First check in
Even if you say check-in, you can sit in the cafeteria and talk in various ways. Enter your name.
The welcome drink that comes out at that time (I don't know if the expression is correct) is "Baitou".
"Baitou" is written in Japanese as plum hot water.
Chopsticks have plums! ! !
I see for the first time and hear the word Baitou for the first time! what's this!?
Chief priest explained about this unknown drink.

Contains hot water with honey. Taste together the umeboshi sandwiched between the ends of the chopsticks in hot water.(Umebosi is plum pickled and dried)
It's so delicious! The sweetness and saltiness are just right.
Even if I stand at the start line of this shukubou experience, I feel that my earthly desires has gone a couple of times. Thank you very much.
While having this Baitou, we will consult with the priest about how to spend a two-day stay at Shukubo.

At this temple, you can experience "Zazen(坐禅)" and "Shakyou(写経)".

what is Sazen?
Zazen is the heart of Japanese Soto Zen Buddhist practice. The aim of zazen is just sitting, that is, suspending all judgmental thinking and letting words, ideas, images and thoughts pass by without getting involved in them. (From wikipedia)
what is Shakyou?
Sutra copying that is the East Asian practice of hand-copying Buddhist sutras.(From wikipedia)

We had a light menu because both zazen and copysharing were first experiences. If you say "I want to do it!", chief priest will let you do it for 2 or 3 hours. However, since we are beginners, we tried to make a schedule to lighten the experience.
Some customers started zazen before the priest came to the main hall! There seems to be a full-fledged person like this, but even a casual feeling like us is OK!
Anyway, since the resident is easy to talk and friendly, there is nothing to worry about even the first experience.
Flow of our Shukubou experience menu
●check-in
↓
●Leave our luggage in our room and take a break
↓
●Zazen(Explanation about zazen + about 1 hour in zazen)
↓
●Prayer (medication)
↓
●bathing(At a natural hot spring just down the mountain. Get free tickets)
↓
●Dinner (we had it from 7 o'clock)
↓
●Going to bed
↓
●Getting up
↓
●Zazen(From 6:30. Light menu, about 15 minutes)
↓
●Morning prayer
↓
●breakfast
↓
●Shakyou experience (about 1 hour)
↓
Descent

I assembled it roughly like this.



To our room!
After checking in, we were taken to the room.

If you walk in the back of the garden, you will find an accommodation building. Disneyland and Universal Studios walk a little from the entrance to the facility. something like that.


It feels as if you are slowly entering the temple world from the everyday world. As you walk through the beautiful and beautiful garden to the back, you will see the accommodation building "Fukkouan" featuring a large solarium.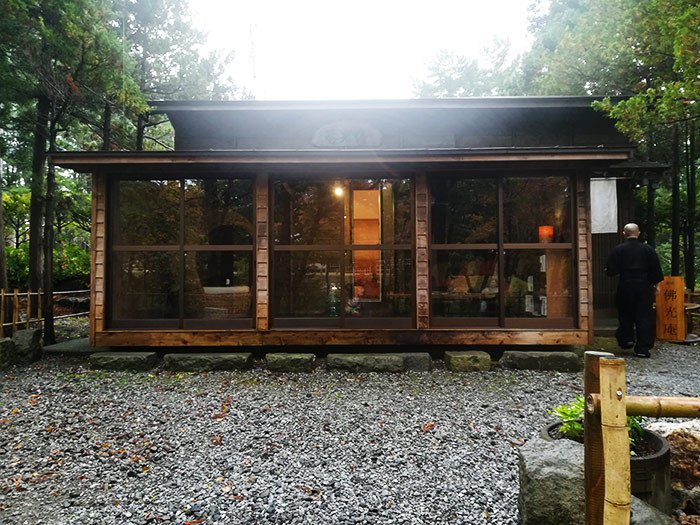 Is this really a temple? Isn't it a resort somewhere?
A wonderful space that makes you want to doubt. You can stay for 2 nights and 3 nights and just look at the garden from here ... you can monopolize a sunroom that is so calm that you can think of it in a very luxurious environment with only one pair a day!
A garden seen from the solarium. From outside, the birds sing. Sense of bliss slowly passing by.
The rooms are very clean and the beds are fluffy.
There are 2 beds in the room. We stayed for three people, but we were able to spend comfortably because we supported with mattress!
After a short break, it's time to experience a shukubou experience!
First Zazen in life
The first menu is "Zazen"!
If you wear a cross and grumble, you will be able to do your shoulders. It seems to hurt.

↓↓↓Zazen is like this↓↓↓


I participated in a state where it was unclear what zazen meant. But it's okay! The chief priest gave a detailed explanation on how to take a zazen posture and what kind of state should I take.

While doing zazen,
It's OK to feel like "Oh, a bird is crying outside."
However, it is NG to think in various ways in our head.
And it is NG that closes our eyes.
The resident's professor used to say "throw away attachment".


Just throw away the attachment!

Even if you start zazen, you will experience how difficult it is to bring your head in a clean state. Really difficult.


And the numbness of the foot in zazen that I am not accustomed to follow up! ! Uooooooooooooooooo ... the ankle is ah! !
I think that is the stick on the right shoulder.


I thought it was a painful thing, but it felt refreshed rather than painful.
Once I hit the shoulder with a stick, it's strange. "Please! Come and hit again soon!"
Rather I realize I am requesting to be struck with a stick, and I haven't thrown away any attachments! At this moment I am obsessed with being struck by a stick! ! !
I thought about this, and in my first zazen, I was thinking about various things in my head while I was crossing my legs. Even though I don't think so often. Zazen is difficult. Deep inside.

Prayer begins when zazen is over.

This temple is Soto Sect. I don't know what I'm saying about the sutra, but when I hear it strange, I feel calm and calm.

This was the end of my first zazen experience.


Dinner (You can eat tuna in Oma!)
There is no bathhouse, but there is a large hot spring 2 to 3 minutes by car from Fugenin. It was a good salty and smooth hot water.
It was dinner at a temple that I was looking forward to when the bath was over!


Even before I stayed here, I knew that this shukubo was "I can eat Oma tuna", so I can have such a special gourmet experience at Oma Temple! ! !
I was really looking forward to it.
When we went to the cafeteria, we found dishes!
There seems to be a fisherman in a parishioner, and tuna is purchased from there.

The food is handmade by the mother of the chief priest.
To start this shukubou, the chief priest studied management and the mother studied cooking for two years.

The tuna of the day was over 100kg, and I was taught that it was raw tuna so I was a little nervous to eat it, but I was impressed with "Is this raw tuna to eat in Oma!" Especially the taste of red fresh in tuna was exceptional.
It is a very luxurious dinner using plenty of fresh seafood. Fresh and delicious and surprised. All the other dishes were very delicious. By the way, you can also drink alcohol. Maybe the chief priest will also be able to drink liquor, so if you invite him you will drink it together!

The next day was to gather in the hall at 6:30 in the morning. The stomach and heart are filled, and we go to bed on this day.


Second Zen of life (early morning)
The next morning, as promised, at 6:30.
The air at the temple in the morning may be due to the cold, but it's very clear and tight.
Immediately after entering the hall, the chief priest who had been waiting for prompted me to start zazen.

We cross the legs as taught yesterday and correct one's posture by looking at one point to make the head empty.

It was completely different from yesterday's zazen, and it seemed that my head was clear enough to make me feel a little bit of the sense of time.
Is this zazen?
I felt like I was able to feel a part of Zazen.

Morning prayers after zazen.
The sound of the drum echoed in the morning body, and it was also comfortable for some reason.



Breakfast at a temple
In the morning it is a vegetarian dish(Shojin cuisine).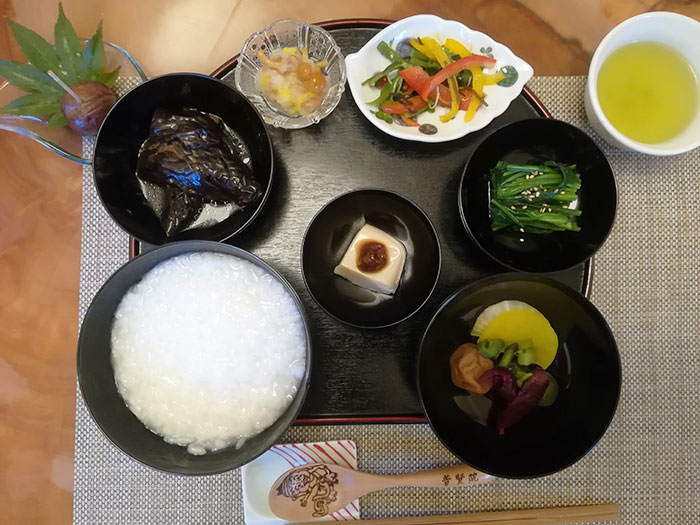 Simple menu with a focus on vegetables!
I was wondering if Shojin cuisine was light, but the monks who were practicing had to take the salt, so it was surprisingly well-seasoned and it was delicious! !

The dessert was ... so sweet with chestnuts (of course this is also homemade!) And it was already exquisite.
First Shakyou in life
After breakfast, it is a copy.
Personally, I'm thrilled with the Shakyou I've been looking forward to more than zazen.
I will copy the model with a brush pen.
Recently, there are few opportunities to write characters using only PCs and smartphones. Moreover, I'm struggling with an unfamiliar brush pen.
It's hard to get used to it, so it's difficult to focus on it. (It may be more correct that you can't afford to think about extra things.)
About 15 minutes so far.
It is desperate because there are some kanji you are not used to writing for the first time.

I think it took about an hour to write everything.

Finally, write your wishes and names.
Time to concentrate on just copying the sutra without thinking about extra things.

The scriptures I wrote on this day have been entrusted to the temple by praying and burning at the festival in January next year.

This is the end of the 2 days stay at Shukubou.


Summary
"Shubou experience" has a solid image and an atmosphere that seems to have a high threshold, but at least "Oma Shukubou Fugenin" introduced this time was not such a thing.

We were very thankful to have the hospitality that we could only have for one group per day, which matched the pace of our guests, and we had a valuable time.

Not only in Aomori Prefecture, but also from outside the prefecture and recently from overseas, it seems to be increasing!

Valuable time to experience an extraordinary experience where you can feel something through Zazen and Shakyou.

The rice was delicious, the chief priest was fun, the hot springs were close, the place was rich in nature, and I wanted to come back again. It is highly recommended for those who want to be healed and those who want to spend their time slowly looking at themselves!

◆Oma Fugen-in homepage (For reservations etc., please call from the following website and call LINE)